The classic Caesar salad has long remained supreme - created nearly 100 years ago this salad is always a crowd-pleaser. If you are looking for a little twist on the traditional Caesar salad follow along with our easy to follow recipe which is sure to be the perfect dinner for you and your family.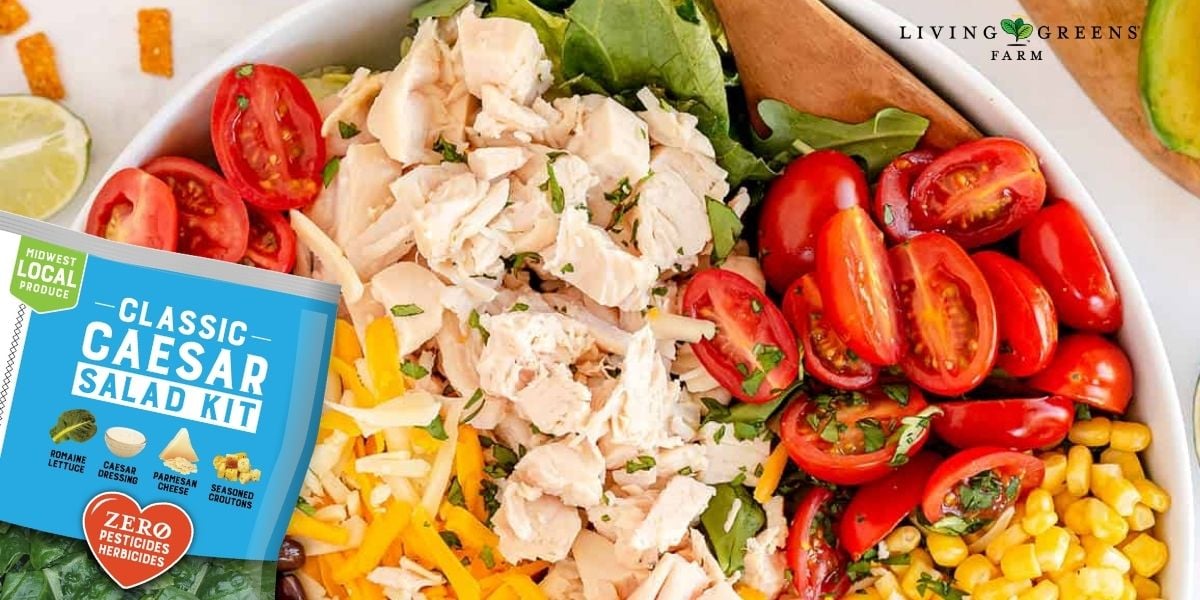 Ingredients:
Living Greens Farm® Classic Caesar Salad Kit
Rotisserie Chicken
Lime Juice
Sriracha
Cumin Coriander
Cilantro
Corn
Black Beans
Avocado
Cherry Tomatoes
Create the Southwest Caesar Dressing:
Add one packet of Living Greens Farm's Caesar dressing
1-2 teaspoons of Sriracha
½ teaspoon of cumin
¼ teaspoon of coriander
½ lime (juiced)
Build the Base:
One bag of Living Greens Farm Caesar Salad Kit
2 cups of chicken
15 ounces of black beans (rinsed and drained)
1 cup canned corn (drain beforehand)
1 cup halved cherry or grape tomatoes
⅓ cup chopped cilantro
1 avocado (sliced)
Mix It All Together:
Let's get prepared! Chop up your avocado, tomatoes, cilantro, and chicken. Rinse off the beans and put them off to the side.
In a small bowl mix up the Living Greens Farm caesar dressing with the sriracha, cumin, coriander and lime juice - set off to the side.
In a bowl combine the Living Greens Farm Caesar Salad Kit with the rest of the base ingredients - mix it up when they are all in the bowl.
Drizzle the southwest Caesar salad dressing over the base of your salad.
Mix it all up so the dressing is distributed evenly
Enjoy!
Find More Great Salads
Are you looking for other easy to make salads that will soon become a staple in your home! Check out all of our bagged salads by visiting our products page here.
About Living Greens Farm
Living Greens Farm (LGF) operates one of the largest indoor aeroponic farms in the United States. Aeroponics, and specifically LGF's proprietary automated grow systems, have been described as the next generation of ag-tech and a solution to the world's food challenges.
Headquartered in Minnesota, Living Greens Farm is Earth-friendly, using 95% less water and 98% less land compared to traditional farming and can grow safely, consistently, and locally year-round. All products are considered better than organic because they're grown in a controlled environment without the use of pesticides, herbicides, or other harsh chemicals. Living Greens Farm has a full product line that includes bagged and clamshell salad greens, premium microgreens, and delicious herbs available to customers throughout the Midwest.